Property Management Services in Cincinnati, Hamilton & Nearby
Work with an expert in roofing, siding & more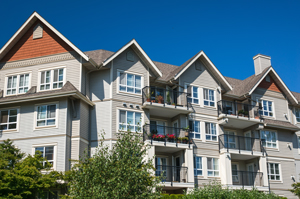 Cochran Exteriors can perform roof replacements, repairs and other services on apartment buildings and more.
When it comes time to replace your property's roofing, the task can seem daunting. As a landlord or property manager, you are liable for damages caused by an antiquated roof. You want your new roofing system to be high-quality. You also want something that will last for years while looking stylish to attract new renters. Whether you're in the market for a full roof replacement or just repairs, Cochran Exteriors are the professionals to call.
Cochran Exteriors provides roofing and exterior building improvement services for property managers, Home Owners Associations (HOAs), condominiums, apartments and multi-family housing. With over 20 years of experience in roofing throughout Ohio, Indiana, and Kentucky, we will take the stress out of your emergency repairs and maintenance issues.
If you're interested in our property management services, call us at 1-513-258-2730 or click below to contact us for special pricing! We serve customers throughout Cin-Dayton.
We offer a wide variety of exterior services
Cochran Exteriors can provide inspections, consultations, repairs, emergency services and more. We work with the following services and materials:
Roofing
Siding
Metal
Full Replacement
Blow Off Repairs
Carpentry
Wood Rot Repair & Replacement
Decking
Exterior Painting
Gutters & Downspouts
K Style
Repairs & Replacement
Gutter Protection Screens and Gutter Guards
Choose the best for your property
Having a dependable company to rely on for repairs and maintenance is pertinent. Cochran Exteriors has knowledgeable and professional roofers and carpenters that provide services throughout Ohio, Indiana, and Kentucky. We pride ourselves in treating our clients as family, and we have thousands of satisfied customers and reviews. We look forward to partnering with you on your upcoming projects. Call today for special property management pricing in Cincinnati, Hamilton, Florence and nearby.
Looking for a price? Get a no cost, no obligation free estimate.