About Cochran Exteriors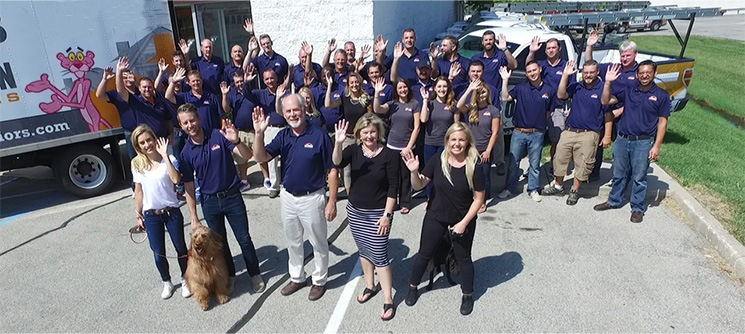 Cochran Exteriors is a local roofing company specializing in residential and commercial roof repair and replacement as well as siding, gutters, and property management services. Our employees have decades of experience solving all kinds of roofing problems, so no matter what your home is facing, there's no doubt that we've seen it before.
Our founders saw the need for more professionalism in the roofing industry, and we've brought in technology combined with customer service to create a high-qualtiy roof repair experience in Ohio, Indiana, and Kentucky. We are dedicated to providing our customers with responsible, lasting home improvement services – and we can't wait to get started on your roofing or siding project!
John Cochran brings years of commercial construction experience to Cochran Exteriors.
Ross Cochran's dedication to reliable roofing service is the foundation of Cochran Exteriors.
About the Owners
John and Ross Cochran are the father-son team that own and operate Cochran Exteriors. Each brings different strengths and experiences that foster the company's continual growth. John, the father, has worked in the construction industry for many years but on the commercial side. He was the long-time Vice President of a company that worked on mostly educational, institutional, industrial and retail projects.
Ross's experience comes from residential roofing. During college he interned for a roofing company and learned all the ins and outs of the industry. When Ross graduated college, he moved to Cincinnati and worked for a freight company. While he was home visiting family in Indiana, he realized he missed the construction industry. John and Ross talked about combining their knowledge and experience and starting their own business.
Soon after Ross' visit home, he left his job in Cincinnati to move back home and presented a business plan to his father. John was ecstatic - he had always dreamed of starting his own company, and was even more excited that he could share this experience with his son. In 2010 the team opened Cochran Exteriors, dedicated to bringing professionalism to the roofing industry and providing homeowners with a contractor they could rely on.
Our Mission
Here at Cochran Exteriors, our mission is to provide you with an effective and comprehensive roofing, siding and gutter system that will deliver satisfaction for years to come. As an experienced construction company with 45 years of combined experience, we are committed to providing excellence in every aspect of our work. Our reputation is not only our guarantee. Cochran Exteriors will provide the necessary service to complete any project to the highest level of quality and offer the industry standard for product and installation warranties.
Looking for a price? Get a no cost, no obligation free estimate.